ACEP Council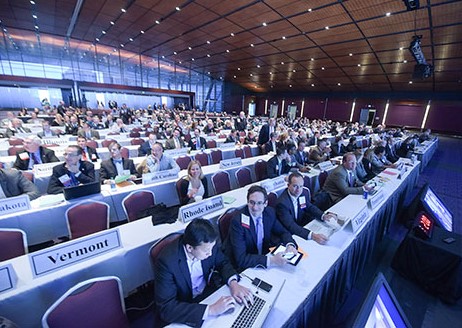 For 22 years, ACEP's Councilors have joined forces to serve as EMF's largest, longest sustaining supporter. In 1997, in an annual meeting prior to ACEP's Scientific Assembly, David Wilcox, MD, challenged fellow Councilors from every state to support specialty-specific research through EMF.
To date, Dr. Wilcox remains a stalwart champion of this annual challenge.
100% Participation in 2018!
Chapters

Alabama Chapter ACEP
Alaska Chapter ACEP
Arizona College of Emergency Physicians
Arkansas Chapter ACEP
California ACEP
Connecticut College of Emergency Physicians
Florida College of Emergency Physicians
Georgia College of Emergency Physicians
Government Services Chapter ACEP
Illinois College of Emergency Physicians
Indiana Chapter ACEP
Iowa Chapter ACEP
Kentucky Chapter ACEP
Louisiana Chapter ACEP
Maine Chapter ACEP
Massachusetts College of Emergency Physicians
Michigan College of Emergency Physicians
Minnesota Chapter ACEP
Missouri College of Emergency Physicians
Montana Chapter ACEP
New Hampshire Chapter ACEP
New Jersey Chapter ACEP
New Mexico Chapter ACEP
New York Chapter ACEP
North Carolina College of Emergency Physicians
North Dakota Chapter ACEP
Ohio Chapter ACEP
Oklahoma College of Emergency Physicians
Oregon Chapter ACEP
Pennsylvania College of Emergeny Physicians
Rhode Island Chapter ACEP
South Carolina College of Emergency Physicians
Tennessee College of Emergency Physicians
Texas College of Emergency Physicians
Utah Chapter ACEP
Vermont Chapter ACEP
Washington Chapter ACEP
West Virginia Chapter ACEP
Wisconsin Chapter ACEP
Wyoming Chapter ACEP
Sections

Careers in Emergency Medicine Section
Cruise Ship Medicine Section
Democratic Group Practice Section
Dual Training Section
EM Informatics Section
EM Research Section
EM Workforce Section
EMS-Prehospital Care Section
Medical Directors Section
Medical Humanities Section
Observation Services Section
Pain Management Section
Palliative Medicine Section
QIPS Section
Rural Emergency Medicine Section
Social Event Medicine Section
Tactical Emergency Medicine Section
Toxicology Section
Trauma & Injury Prevention Section
Undersea & Hyperbaric Medicine Section
Wellness Section
Young Physicians Section
Organizations

Emergency Medicine Residents' Association
Society for Academic Emergency Medicine
Association of Academic Chairs of Emergency Medicine